In celebration of his 35th birthday, Dr. Sangu Delle, a philanthropist, established the Sangu Delle Foundation to further his charitable endeavors.
The foundation seeks to advance health, employment, and education.
This comes after running a Non-Governmental Organization (NGO) for 15 years to meet the needs of people in rural areas in terms of health, water, and hygiene.
The Foundation's private launch and fundraising dinner were conducted over the weekend at the Kempinski in Accra.
People including Dr. Delle's father, Na Prof Delle, the Rev. Father Campbell, motivational speaker Albert Ocran, the former vice chancellor of the University of Ghana, Professor Ivan Addae-Mensah, as well as family and friends, attended the ceremony.
According to Dr. Delle, his humanitarian disposition was motivated by his family's history.
He contends that while opportunity is unequally distributed, brilliance is. As a result, 10,000 Sangu Delle Foundation recipients will receive no-cost mentoring, seed money, and consulting services.
His desire is to see young people, particularly those from the North of the country, getting an education and pursuing their dreams. He is a young man from Nandom in the Upper West Region. Accordingly, his Foundation would assist 5,000 entrepreneurs from Ghana's Northern region and another 5,000 entrepreneurs from all around the nation.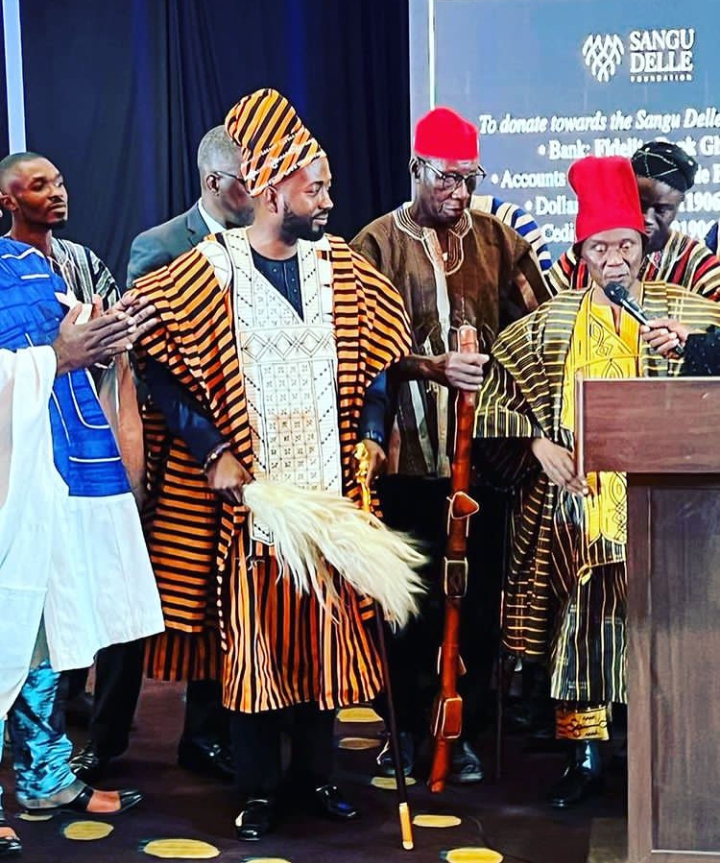 "I am very proud to fund the Sangu Delle Foundation at Ashesi University to support students in the Upper West Region", he said.
Health, education, and job creation, in Dr. Delle's opinion, are the essential building blocks of leading a decent life.
The Amira Delle Scholarship at Harvard University, established in memory of his mother Amira Delle, will benefit African girls. The Prof. Edmund N. Delle Research Fund at the Harvard Center for African Studies, established in memory of his father, will encourage graduate research in Africa.
In each of Nandom's six zones, libraries and ICT centers will also be constructed. Additionally, there will be assistance for those who are suffering from mental illness, particularly in underserved communities, as well as assistance in the fight against stigmatization of mental illness.
The chief executive of the Mental Health Authority and guest speaker Nana Dufie Addo both received awards for leadership in job creation.
An honor for leadership in mental health was given to Nana Ama Boakye Adom.
Patrick Awuah, a guest lecturer on education, also received a leadership in education award.
Dr. Tasha Intsiful and Dr. Erica Koranteng were the evening's scholarship winners.
Dr. Sangu Delle's father, Na Prof Delle, spoke at the occasion and thanked his son for making sure that knowledge is passed on to future generations.
"In 1957, there was only one secondary school in the North, so I am happy he has chosen to do his philanthropic work in the North", he said.
He asked the audience during the fundraising event: "Imagine trying to raise money during this economic downturn.
"Somebody asked me, Sangu why are you doing a fundraising in this economic crisis? And I want to address that, if those of us here are feeling the pinch, imagine the underprivileged.
"It is a time like this where economic hardship is everywhere that we all need to dip into our pockets and help", he said.
More stories