Source: BBC
One company that is seeking to capitalise on medicinal cannabis is Labat Africa Group. The Johannesburg Stock Exchange-listed company recently acquired Eastern Cape cannabis grower Sweetwater Aquaponics.
Labat's director, Herschel Maasdorp, says the company is undergoing significant growth in both Europe and Africa.
It has also listed in Frankfurt, because "Germany is the single largest market in Europe for medicinal cannabis distribution", he says.
"The opportunities for distribution in Europe are very big. In addition to that, across borders, in Africa alone, there is a proposition that we have consolidated across a number of different countries all the way from Kenya, to Zambia to Uganda, Rwanda, Tanzania, as well as in Zimbabwe."
Legal cannabis trade on the continent is set to rise to $7bn as regulation and market conditions improve, says London-based industry analyst Prohibition Partners It says Africa's top producers by 2023 will be Nigeria with $3.7bn, South Africa $1.7bn, Morocco $900m, Lesotho $90m and Zimbabwe $80m.
In its Global Cannabis Report, Prohibition Partners is forecasting exponential worldwide industry growth: "Combined global sales of CBD, medical and adult-use cannabis topped $37.4bn in 2021 and could rise to $105bn by 2026."
Considering South Africa's stagnant economic growth and record unemployment, tapping into the cannabis industry could reap rich rewards.
For Wayne Gallow from Sweetwater Aquaponics, incorporating traditional growers in the industry is crucial for economic development in the Eastern Cape.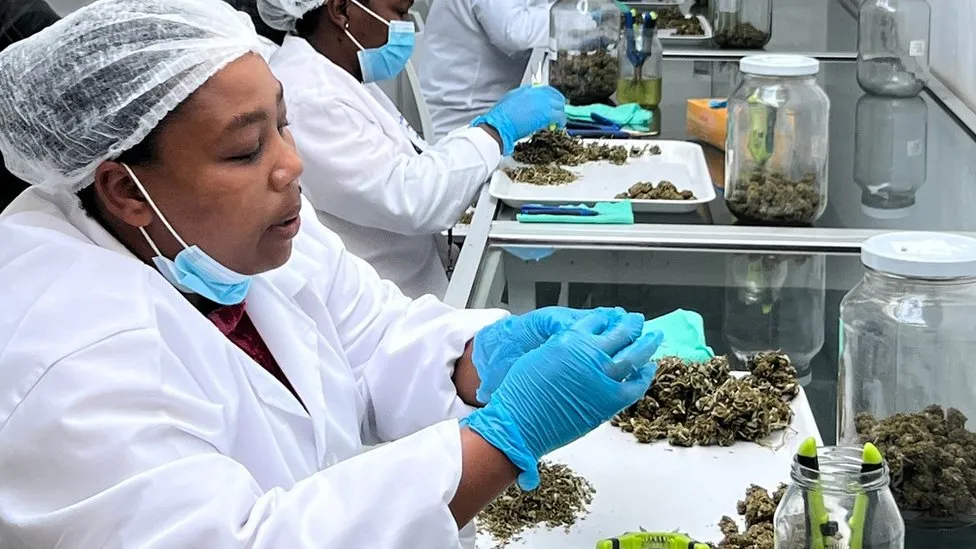 "What we wanted to achieve with our licence is not only to grow medicinal cannabis, but to use that licence to benefit everybody in the Eastern Cape," he told the BBC.
He admits the more traditional growers have been left behind as cannabis legislation progressed.
"The Pondoland area was synonymous with supplying the cannabis throughout South Africa," he says.
However, changes in the law had a "detrimental" effect on Pondoland farmers, because it meant anyone could now grow and consume their own cannabis, so they no longer had a market for a crop that was previously very lucrative.
Even growing cannabis to export for medicine is not feasible for small-scale farmers, because of the eye-watering costs. It requires a licence from the South African Health Products Regulatory Authority (SAHPRA) which costs about $1,465.
Besides the licence fee, to set up a medicinal cannabis facility you need about $182,000 to $304 000, which is beyond the reach of many traditional growers.
However, there is some promising news for the Eastern Cape farmers. The Pondoland or Landrace strain of the plant, which grows so abundantly in the area, has shown some encouraging results in treating breast cancer.
Sweetwater Aquaponics and the Council for Scientific and Industrial Research (CSIR) are currently running a study, and scientists are optimistic that the strain will yield good results.
It is still early days, but if the Pondoland strain is found to be effective, this could be the game-changer that indigenous growers have been desperately searching for.
More stories