The Office of the President and the Ghana Police Service are thought to be the most corrupt organizations in the nation.
The Ghana Centre for Democratic Development conducted an Afrobarometer research that produced this result (CDD-Ghana).
What is Afrobarometer?
A pan-African, non-partisan, non-profit survey research network that provides reliable data on Africans' experiences and evaluations of democracy, governance, and quality of life.
Eight survey rounds in up to 39 African countries have been completed since 1999. Round 9 surveys (2021/2022) are currently underway.
Goal: To give the public a voice in policy making by providing high-quality public opinion data to policy makers, policy advocates, civil society organizations, academics, news media, donors and investors, and ordinary Africans.
A national partner in each country conducts the survey. In Ghana, the Afrobarometer Round 9 survey was conducted by the Center for Democratic Development.
According to the study, the Police was ranked first overall with a score of 65%, followed by the Presidency in second place with a score of 55%.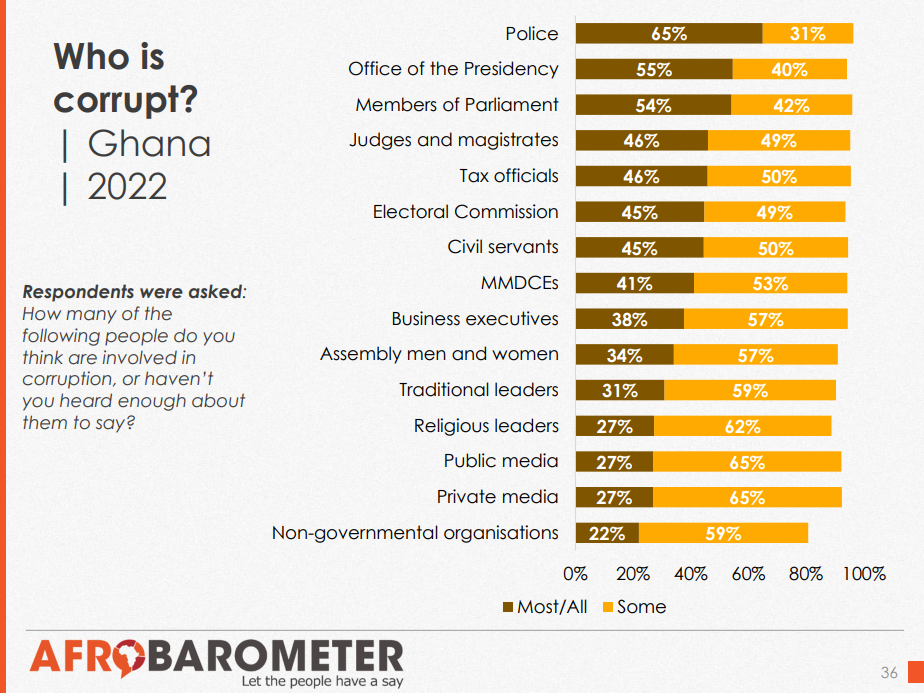 Read the full report
More stories